Comedian Jimmy Kimmel proved that he can not only host a major event like the Emmys, but he can also keep people laughing the whole time at his somewhat awkward, witty and simply hilarious jokes. There were many favorite moments from last night's event and here is a round up of some of Jimmy's best moments.
1. Jimmy Kimmel verses Matt Damon
The surprise appearance by Matt Damon eating an apple while Jimmy is still hosting is a priceless moment. What was even more hilarious was Matt showing up just when Jimmy failed to get an Outstanding Variety Series Award which was taken by John Oliver. There was back and forth banter between the two until Matt left the stage and said, "tell your mom I like them apples." Jimmy replies by saying,"good one Jason Boring."
2. Jimmy Kimmel verses Donald Trump
Donald Trump of course did not escape a few hits by the host and director Mark Burnet was also put on the spot. "If it wasn't for television would Donald Trump be running for president? No he would be at home right now rubbing against his wife Malaria…." "Thanks to Mark Burnet, we don't have to watch reality shows anymore because we are living in one."
3. Game of Thrones, People VS O.J Simpson Liners
"The rest of you: if your show doesn't have a dragon or a white bronco in it, go home." – Jimmy Kimmel on Game of Thrones and People VS O.J Simpson's fantastic performance in the Award show.
4. Jimmy Kimmel verses Hollywood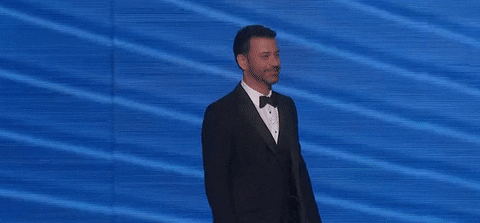 The Hollywood industry was not left out. While talking about diversity Kimmel says, "Here in Hollywood, the only thing we value more than diversity is congratulating ourselves on how much we value diversity."
5. Jimmy Kimmel on Marcia Clark and Sarah Paulson
The Marcia Clark joke was also witty as he praised Sarah for bringing Marcia to the award show. "Because everyone in L.A knows if you want to win, sit next to Marcia Clark."
You simply can't deny that while there were many moments of awkwardness as Jimmy punched some hilarious ones at the 68th Emmy Awards, 2016.